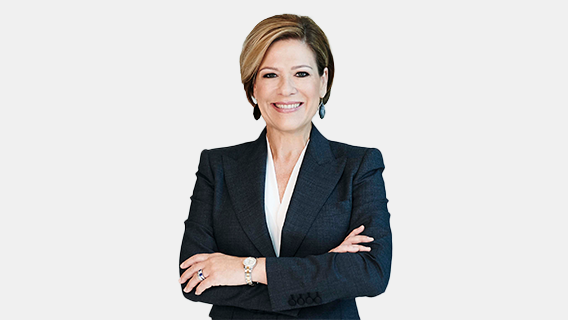 Tere Blanca
Founder, Chairman and Chief Executive Officer, Blanca Commercial Real Estate, Inc
MHBS Real Estate Programs Advisory Council
Tere Blanca is the Founder, Chairman, and Chief Executive Officer of Blanca Commercial Real Estate, Inc., the leading independently owned commercial real estate services firm in Florida. She founded the firm in 2009 after identifying a need in the marketplace for a local advisory and brokerage firm built on a culture of giving clients a highly personalized approach to service. With Tere's vision, progressive leadership, and foundation of passion, care, and commitment to excellence, teams are purpose-built and strategies are customized to fit each client's diverse needs allowing the firm to achieve successful outcomes and setting new market standards.
Blanca Commercial Real Estate now has a dynamic team of more than 40 top professionals that embrace a culture of collaboration and caring for each other, the firm's clients, and the community. It is recognized as one of the top commercial real estate brokerage services companies in Florida, ranked by the South Florida Business Journal as one of the top ten firms in South Florida, maintaining more than 34% market share of all office lease transactions executed in Class A and B office space in Miami since 2017; the firm's home base. Expanding across South Florida, the firm now has 3 offices across the region and has grown its services to include property management, tenant engagement services, development consulting, and health care practice.
Throughout her 35-year career, Tere has participated and led many significant lease transactions and new development projects from land acquisition to the master planning, design, construction, marketing, lease-up, and sale of office and mixed-use assets. Clients of the firm include Nuveen Real Estate, Allianz, Hines, Agave Holdings, Lincoln Property Company, IQ Office/Blackstone, BH Group, Federal Realty Investment Trust, Shorenstein, Stiles, Related Group, AIMCO, and the law firms of Akerman LLP, and White & Case, LLP; Greater Miami Chamber of Commerce, Miami Herald Media Company; WeWork; Coastal Construction, Quirch Foods, Inc.; Insigneo; Inktel, DASI, Neutralogistics, Mexican Consulate and the University of Miami, to name a few.
Prior to launching Blanca Commercial Real Estate, Tere served for five years as Senior Managing Director for Cushman & Wakefield of Florida, Inc., where she led the firm's South Florida region, achieving significant revenue growth and increased profitability. Tere also held the position of senior vice president at Codina Realty Services, Inc. ONCOR International where she was consistently among the top producers during her 14-year tenure.