View photo gallery on Facebook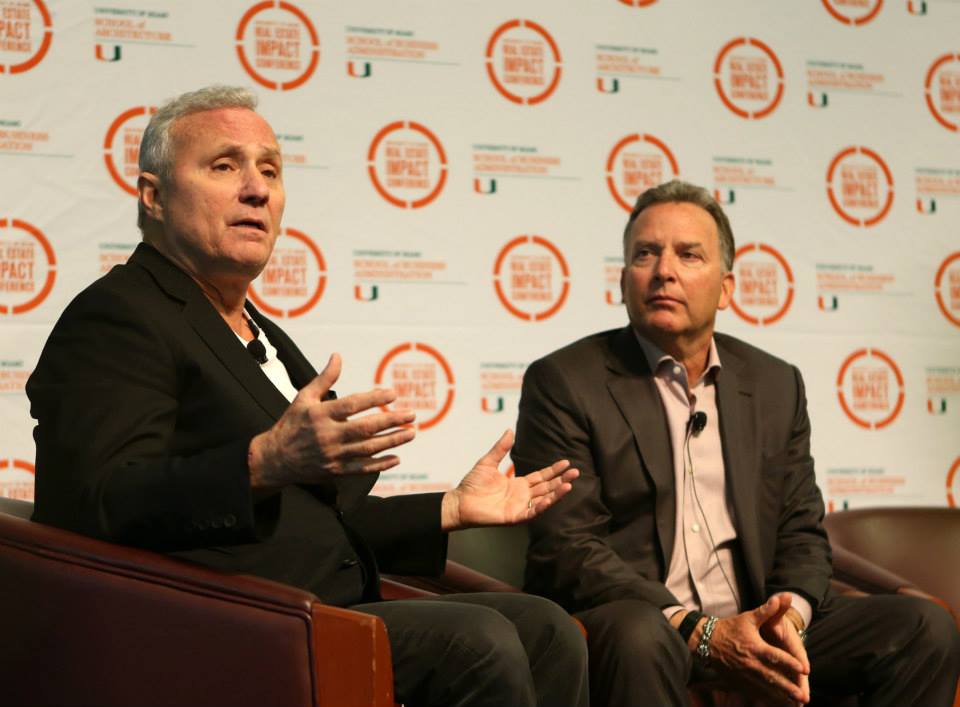 Ian Schrager (left), founder and chairman of Ian Schrager Company, was interviewed by Steve Witkoff, CEO of The Witkoff Group, and explored new concepts in lifestyle hotels.
It was literally standing room only at the University of Miami's fourth annual Real Estate Impact Conference on Wednesday, February 18.
Hundreds gathered at the JW Marriott Marquis Miami to network with national industry experts and glean perspectives on South Florida's real estate market.
 "We try to use the University's power to convene to host conferences like this one and build intellectual capital and professional networks in areas of vital importance to Miami's future, like real estate," said Gene Anderson, dean of the School of Business Administration, which co-hosts the conference with the School of Architecture.
During the "Retail Evolution and Revolutions" panel, Michael Comras, president and CEO of Comras Company, moderated a discussion about the dramatic changes taking place in the region's retail market.
"Miami is now the third-biggest market after New York and L.A. for luxury retail," said David Forbes, a partner at the Forbes Company, an owner and developer of iconic regional shopping centers and co-developer of Miami Worldcenter's mall.
That reality is driving up rents. Robert Cohen, president of retail leasing and investment sales brokerage firm RKF's Southern California division, says retail rents have doubled over the past six years and called "sustainability" a big word in terms of continued rent growth.
Steven Witkoff, CEO of The Witkoff Group, a New York-based real estate developer, interviewed Ian Schrager in the "New Concepts in Lifestyle Hotels" panel. Founder and chairman of the Ian Schrager Company, Schrager developed the South Beach's iconic Delano Hotel and transformed he fabled Gramercy Park Hotel in New York City. He recently launched his Public Hotel brand in several cities.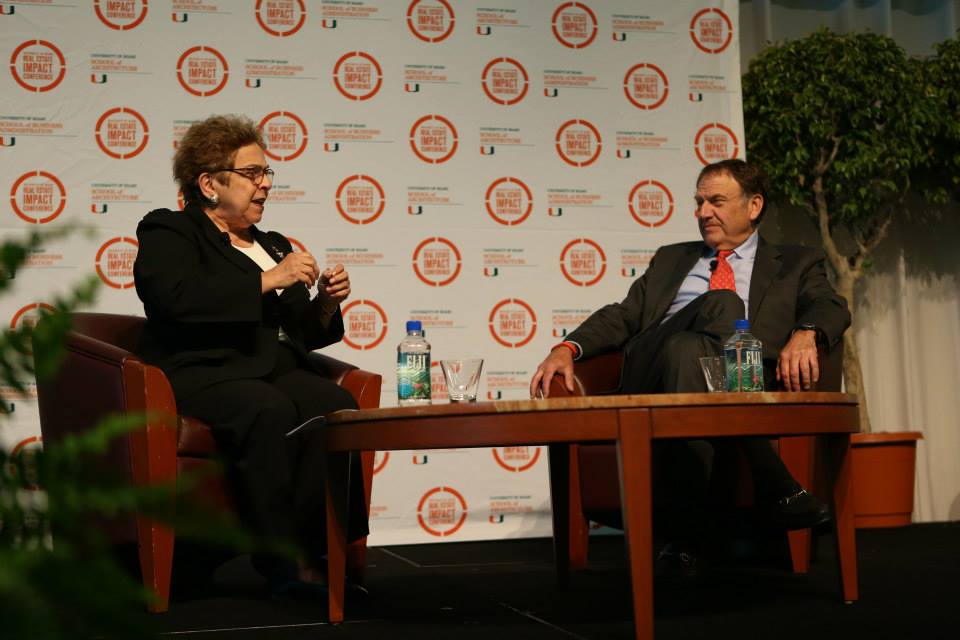 University of Miami President Donna E. Shalala (left) held a candid conversation with Richard LeFrak, CEO of LeFrak Organization.
"I like the Biscayne Boulevard corridor and I like downtown Miami," Schrager said. "They could have a sophisticated hotel at a good rate and attract people with food and beverage. We have been talking about a couple locations in Miami, one near the ocean."
Although there's been plenty of focus on trendy Wynwood, Schrager isn't convinced the emerging neighborhood is ready for high-end projects. Wynwood, he said, reminds him of Brooklyn's Williamsburg. "I think he's not safe at night there yet, but it's cool," he said. "I'm keeping my eye on it."
A group of experts explored the potential for linear park initiatives in South Florida to have a transformative impact on the metropolitan area in a panel called "Creating Value: Urban Real Estate and Public Space." A project called the Underline would develop 10 miles of bicycle and walking paths under the Metrorail line that runs from Dadeland to Brickell Station. The space is currently not used.
"We want to find ways to take these leftover lands and give them back to the public in meaningful ways," said Meg Daly, founder of Friend of the Underline, a group lobbying for the project. She pointed to an elevated walkway in Manhattan called High Line along the site of an unused railway spur that drove investors to an abandoned area.
"It will increase property values and be a new way to get around the city," Daly said. "We can use the leftover land owned by the public and give it back to the community in a meaningful way."
In the final portion of the conference, which was presented by Florida Blue, University of Miami President Donna Shalala had a candid conversation with Richard LeFrak, CEO of LeFrak Organization and one of the most prolific and iconic real estate developers of our day. The New York real estate industry titan is making a big push in Miami with his $350 million renovation of the 1 Hotel & Homes South Beach.
"You have great cultural and great culinary, a great beach, a financial sector, and the second busiest airport in the country," LeFrak said. "You are a global city and your market here is the world."
Nevertheless, LeFrak, who also owns 183 acres at Biscayne Landing in North Miami, warned to expect another down cycle. He said, "There will be some volatility in the market even if people are buying condos and putting 50 percent down."
The annual Real Estate Impact Conference, presented in 2015 by Douglas Elliman Real Estate, the Kislak Foundation and The Witkoff Group, is one of a number of real estate industry initiatives spearheaded by the School of Business Administration and School of Architecture. Academic programs in real estate include an Accelerated MBA in Real Estate, an MBA concentration in real estate, an undergraduate real estate major, a Bachelor of Architecture/MBA in partnership with the School of Architecture, and the School of Architecture's Master of Real Estate Development + Urbanism.