If the mood at last year's University of Miami Real Estate Impact Conference was optimistic, the feelings this year were downright bullish about real estate in Miami and beyond. 
Held Feb. 13 at the newly-minted Perez Art Museum Miami, one of the latest developments in the movement to revitalize downtown and its surrounding areas, the conference, hosted by the UM School of Business and School of Architecture, brought together nearly 300 people.
Miami was used a prime example of positive movement in discussions on mixed-use development and walkability in a panel called "The Invisible Asset Class Initiative" to subsequent panels focusing on creativity in the commercial real estate sector and the power of residential real estate to change a city's future. 
"There is a benefit to developing mixed-use assets," said Mark L. Troen, managing partner and principal of The Winnmark Group, in a panel discussing the move to have the industry recognize walkable, transit-oriented, mixed-use development as an asset class. "Mixed-use properties, which are often perceived as more difficult to develop, typically perform as well or better as other asset classes."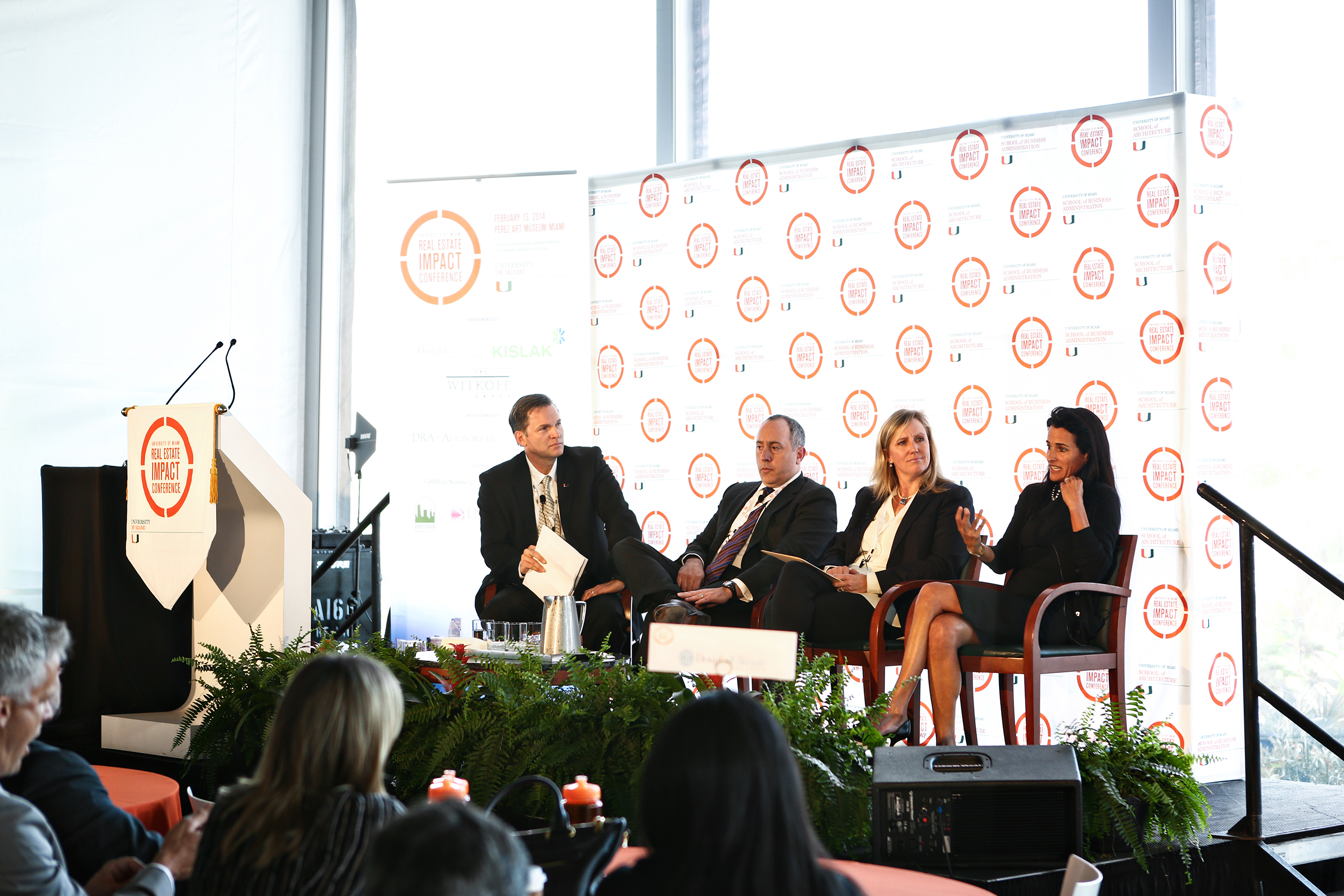 Pictured (from left to right): Vincent Signorello, president and CEO, Florida East Coast Industries; Jodie W. McLean, president and CEO, EDENS; and Avra Jain, chairman and founder, The Vagabond Group.
In a panel called "Think Differently: Innovation, Entrepreneurship and Leadership in Commercial Real Estate," Jodie W. McLean, president and Chief Investment Officer of EDENS, explained how her company's business model has evolved to find more ways to engage with communities.
"We've completely shifted our mindset," she said, noting that communities have lost a central sense of place. EDENS is moving to reclaim and rebuild places that give communities gathering places where people can slow down in a convenient, safe, and vibrant atmosphere.
Jorge Perez, CEO of The Related Group, made his voice heard in a panel entitled, "The Power of the Residential Real Estate Market to Change a City's Future." "South Florida has become, as opposed to just being fun in the sun, a serious city, a great city," Perez said. "In terms of problems in South Florida, we still don't have the local buyers for our private properties we're building."
Perez pointed to rising construction costs as one issue to beware of on the condo development front while Stuart Miller, CEO of Lennar Corp., said rising construction costs weren't as critical in the single-family home market due to stable land costs and rising home prices.
Keith Oden, president of Camden Property Trust, called South Florida the fifth-best-performing market in the U.S. Only Atlanta and three Texas markets rate higher for his company, which owns 70,000 multifamily units in 15 U.S. markets. Camden is building multifamily homes in Planation and Boca Raton in 2014, signaling a 5% growth rate in its South Florida portfolio this year.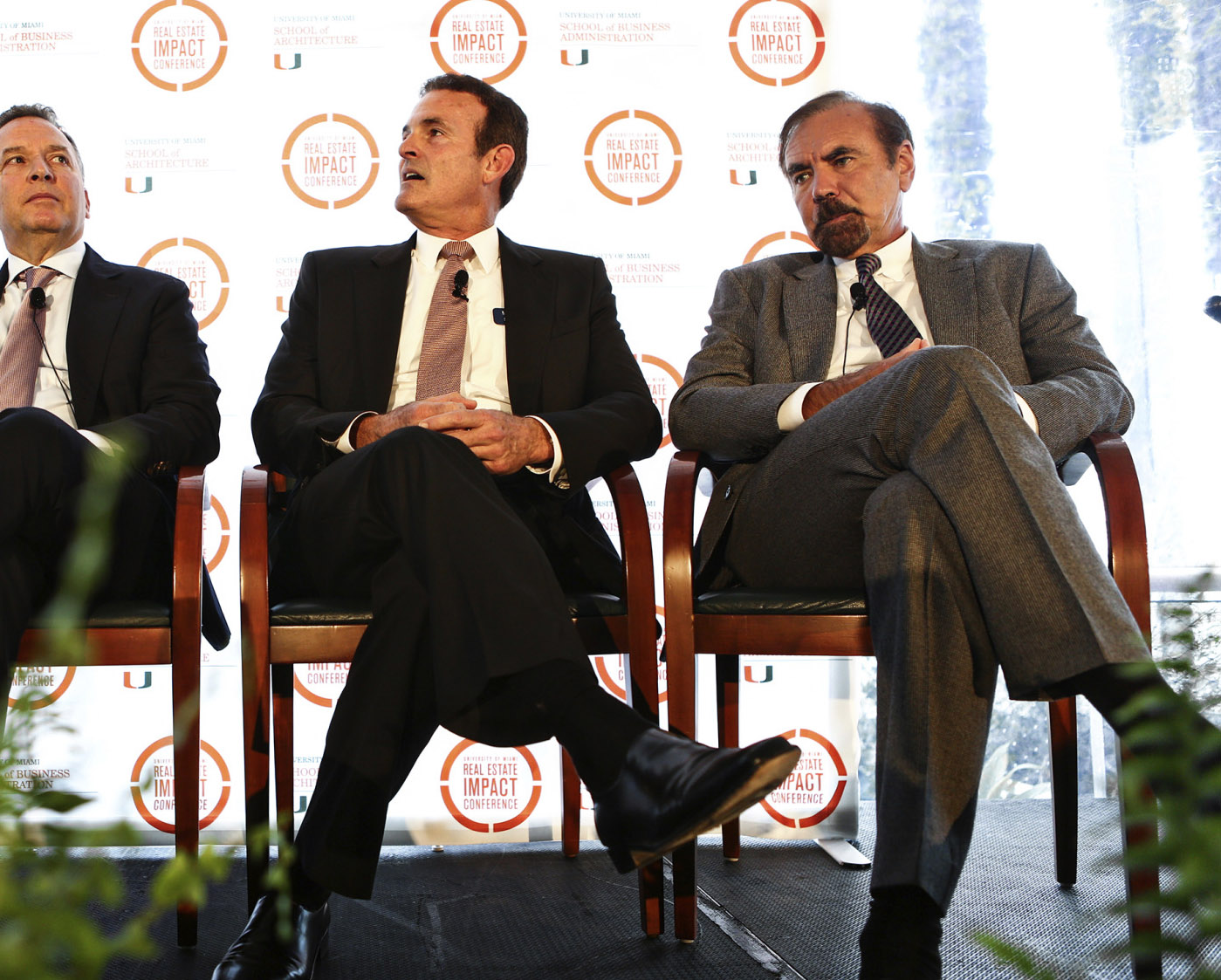 Jorge Perez, chairman, CEO, and founder of The Related Group, warned condo developers to be mindful of rising construction costs.
"We love this market," Oden said. "We think there is a lot of underlying strength here, and 2014 looks to be another strong year."
UM President Donna Shalala moderated a keynote session with Starwood Capital Group CEO Barry Sternlicht. Their talk focused on issues ranging from the future of hotel branding to the economy to education. Sternlicht pointed to Miami's red hot hotel market, which he said was arguably the best in the nation. He also likes Florida's low tax structure, including no income tax, and predicts Northeasterners would begin moving to the Sunshine State if tax structures in New York, Massachusetts, and Connecticut did not change.
"Everyone wants to come here," he said. "Also, you have really low taxes. We've noticed. My generation, which is the tail end of baby boomers, we're coming. We're changing our addresses and we're coming to low-tax states."
"We want to be part of Miami's future. This conference is an opportunity for us to bring together thought leaders to discuss areas of vital importance to Miami," said Eugene Anderson, dean of the School of Business. "A university has the power to convene. We like to use that power as a catalyst for the community. This event helped emphasize the importance of education—across the board—to attracting the right talent and then developing that talent."
Andrea Heuson, a professor of finance at the School, was among the many inspired by what she heard thought leaders say about real estate and business in South Florida—and the entire state of Florida—at the conference.
"The people who work in commercial real estate are interested in an amazing variety of projects. They look at things in ways I had never thought of," Heuson said. "As a university, we try to be a thought leader and a convener to bring all of these great minds together. The benefits of this type of conference aren't always apparent until two or three years down the road when people who met here cross paths again and realize the benefits of networking."
Presenting sponsors for the conference included Douglas Elliman Real Estate, the Kislak Family Foundation and The Witkoff Group.