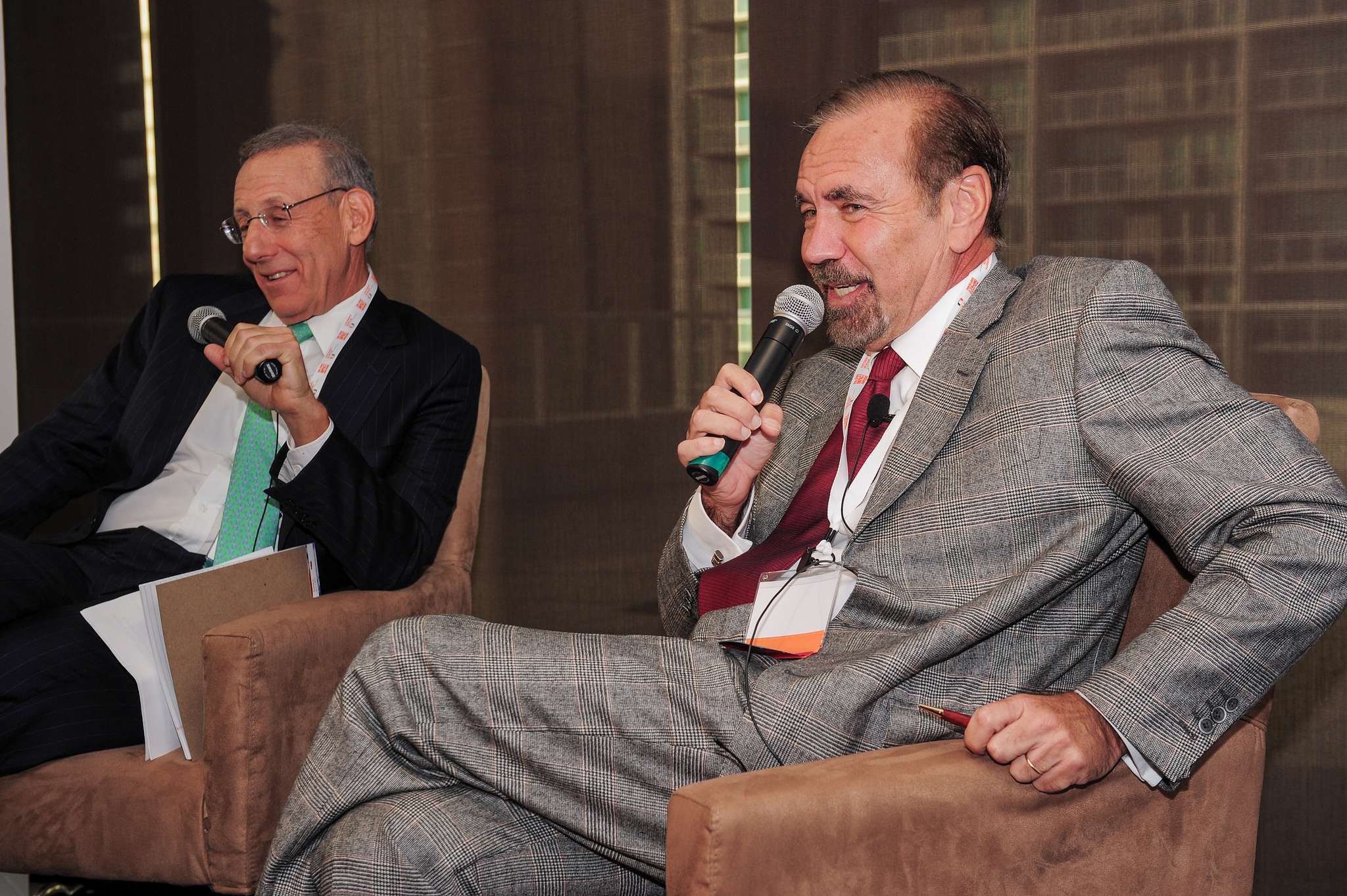 Stephen Ross (left), chairman and founder of Related Companies, and Jorge M. Pérez, chairman, CEO and founder of The Related Group, held a candid conversation during the conference's keynote session.
When you gather the likes of Related Company's Stephen M. Ross and Related Group's Jorge Pérez, DACRA's Craig Robins, Wells Fargo's Mark Meyers and a host of other movers and shakers in the real estate industry at a single event, you should expect standing room only.
That was the scene at 600 Brickell on Friday as the University of Miami School of Business and School of Architecture hosted the second Real Estate Impact Conference. With two panel sessions and a keynote featuring real estate and financing thought leaders, the 14th floor was flooded with professionals, students and alumni ready to learn and to network.
"The conference contributes to the intellectual vitality of South Florida overall. It also helps build our reputation and participants gain new insight about what the future holds for real estate, in the region and beyond."
Anderson's vision for the Real Estate Impact Conference is to disseminate intellectual capital and encourage networking among real estate professionals and School of Business students. Of course, Anderson is also keen on raising UM's visibility and reputation in South Florida and beyond. 
From left to right: Craig Robins, CEO and president, Dacra; Yaromir Steiner, CEO, Steiner + Associates; and Neisen O. Kasdin, Office Managing Shareholder, Akerman Senterfitt.
One panel session, "Game-Changing Real Estate Developers" explored the power of the urban landscape to change the course of a city's future. That panel featured Robins, the CEO and president of Darca who has made his mark on Miami Beach and now Miami's Design District, as well as Yaromir Steiner, CEO of Steiner and Associates. Neisen Kasdin from Akerman Senterfitt moderated the panel.
The second panel, "U.S. Commercial Real Estate Markets: The View from Home and Abroad" explored the perspectives of both foreign and domestic investors on U.S. commercial markets, with a focus on South Florida. The panel included Seamus Foran, senior vice president of Brookfield Asset Management; Michael Fuchs, co-principal of RFR Holding; Paulo Melo, principal of Integra Solutions; and Mark L. Myers, executive vice president and group head, commercial real estate at Wells Fargo & Company. Steven Witkoff, chairman and CEO of The Witkoff Group, moderated the session.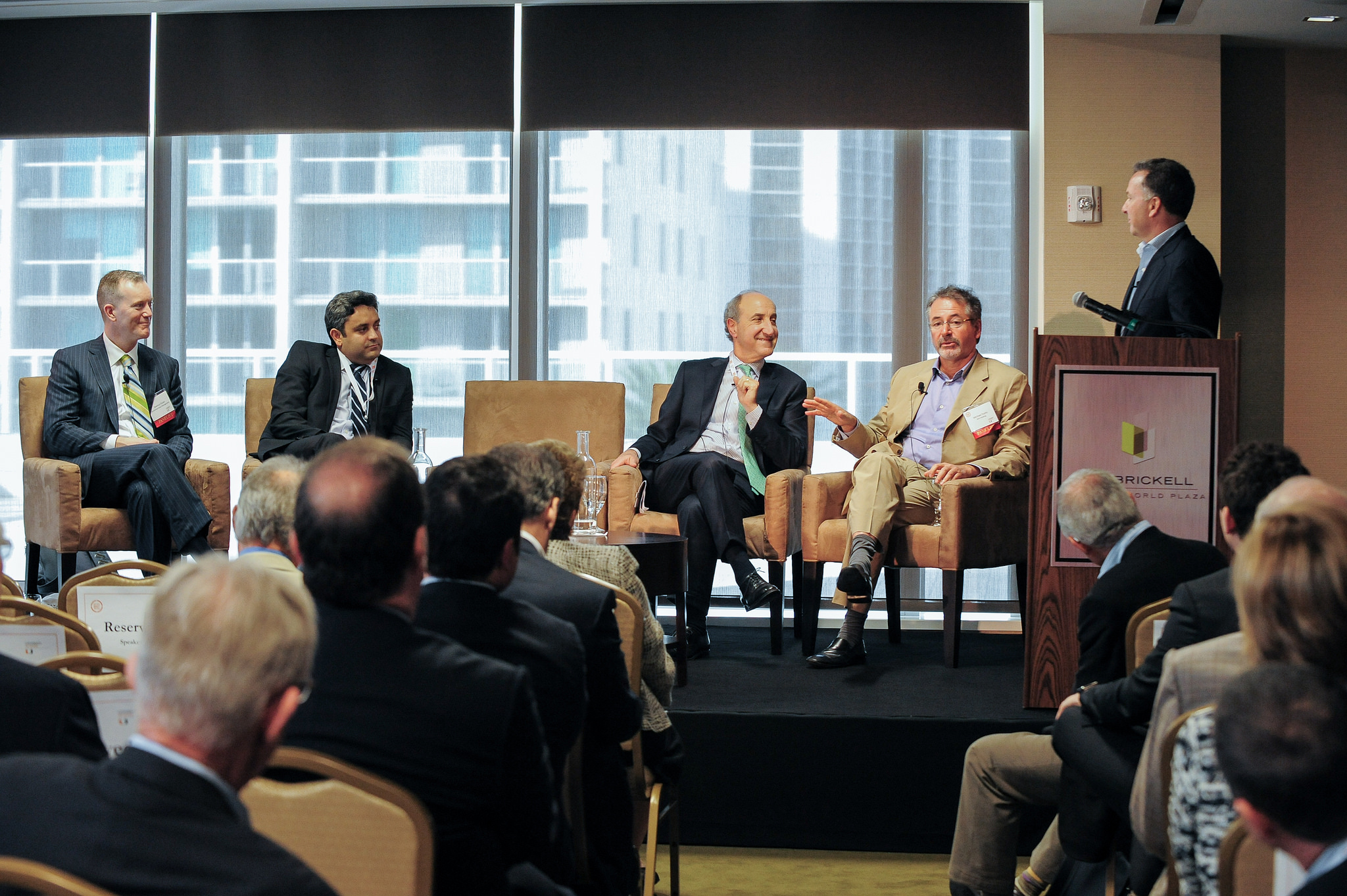 From left to right: Seamus Foran, senior vice president, Brookfield Asset Management; Paulo Melo, founder and principal, Integra Solutions; Mark L. Myers, executive vice president, group head, commercial real estate, Wells Fargo & Company; Michael Fuchs, co-founder and principal, RFR Holding; and Steven C. Witkoff, chairman and CEO, The Witkoff Group.
"I find it valuable to hear the panelists' perspectives," said Witkoff, who is a member of the School's Real Estate Programs Advisory Board. "They are sharing key data points. I want to get all the information I can. This conference was another forum for gathering information and networking."
UM President Donna Shalala introduced Ross, chairman of Related Companies, and Pérez, chairman of The Related Group. In a casual session, the partners asked each other questions about reshaping real estate markets in South Florida and around the world.
The conference made an impact on Thomas Bartelmo, president and CEO of Kislak. His company, along with DouglasElliman Real Estate and The Witkoff Group, were lead conference sponsors. Bartelmo says part of his company's culture is to give back to the community—and supporting education is a key part of that effort. "Opportunities to assemble so many leaders in the real estate community in an educational setting dovetail with our philanthropy endeavors," Bartelmo says. "Real estate is the number one industry in South Florida and UM is the premier university in South Florida with a top-notch real estate program. It's vital for UM to host conferences like this one."